Liu - Tea & Art
Our brands
Go to Wudang Daoist Tea
Wudang Daoist Tea
On around 850m above sealevel, we grow our finest daoist teas on Wudang Mounatin, Hubei Province, China. The good climate and special area make our handproduced tea so unique.
Go to Liu – Chinese Art
Liu – Chinese Art
The traditional artist and musician Liu Wenzhuo invites you to enter her world of fine art. Besides her paintings and arts , she designs and paints tea-ware, traditional chinese clothing and accessoires.
Go to Wudang Tea House
Wudang Tea House
The authentic chinese tea-house in the middle of nature, far away from the stressfull city. An island of stillness and relaxing tea-art. We provide tea-service and workshops for individuals and groups.
Be the first to get new updates
Latest News
After the Han Dynasty, until the Tang Dynasty, there was no strict boundary between tableware and drinking utensils. In most cases, they were shared. However, as a ceramic tea set, after the development of the Western Jin Dynasty and the southern and Northern Dynasties, to the Tang Dynasty, Lu Yu's <tea classic 茶经> contains 20 kinds of tea sets, which shows that the Tang Dynasty tea set has complete shape, complete supporting facilities, and special tea sets have been established. Book Workshops
Read more about What did ancient Chinese people drink tea with?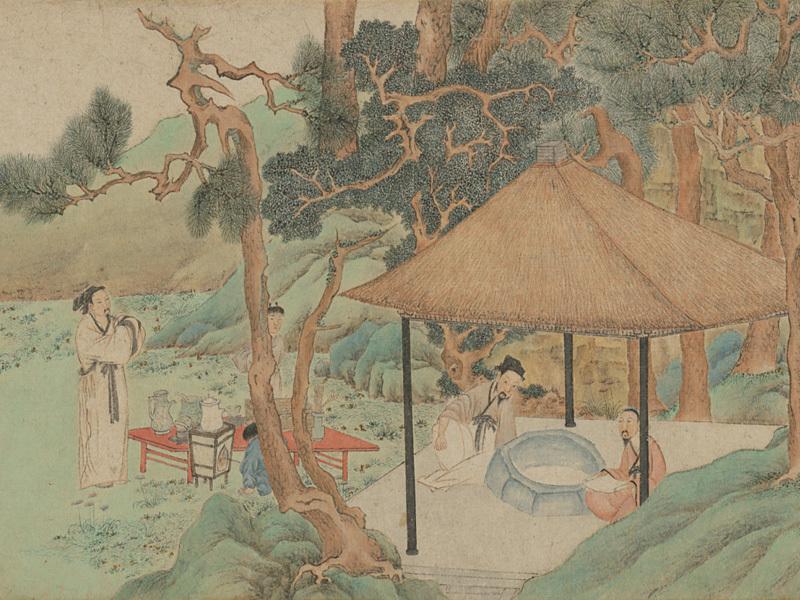 Huishan- Hui Mountian Spring 惠山泉, was tasted by Lu Yu, the "tea sage" of Tang Dynasty, according to legend, therefore, Huishan spring was named Lu Zi spring, honored as "the second spring in the world" by Qing Emperor Qianlong. The spring is now located in Xihui park at the foot of Hui mountain in the western suburb of Wuxi City, Jiangsu Province. Because Huishan spring water is famously good, so many ancient tea experts came to taste and discuss. Li Shen, a poet in the middle Tang Dynasty, "茶得此水,皆尽芳味也 once tea has this spring water, it will give off all its fragrance of this tea". Zhao Mengfu, the great calligrapher of the Yuan Dynasty, wrote "the second spring in the world 天下第二泉" for Huishan spring, which is still well preserved on the back wall of the spring Pavilion. In Song Dynasty, the famous poet, Su Shi was well versed in his poem, he brought the best tea cake to try the second spring in the world. After drinking, he repeatedly praised the wonderful.
Previous
Next